MT300 High Performance Multi-Function SMD Placer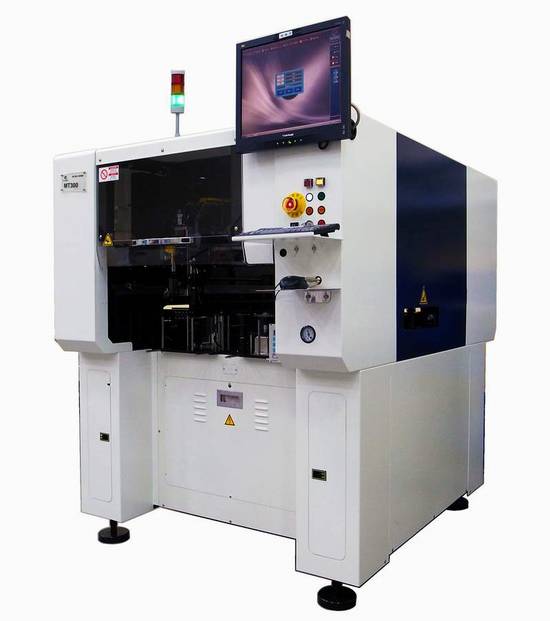 The MT300 is a high-performance SMD pick and place machine equipped with on-the-fly vision recognition system. To acheive the shortest pick and place route, the machine head moves directly to the PCB instead of going to the fixed vision camera first before placing the part. The shorter distance between the pick up location and the PCB contributes to high manufacturing throughput.

The MT300 can be equipped with both electrical or mechanical feeders. The newly developed electrical feeders not only enchances the feeding stability and placement accuracy, but also improves the maintenance convenience.

MT300 achieves the optimum top speed of 22,500 CPH (17,000 CPH/IPC 9850) for surface mouting. It is the most economical SMD placer in this class in the electronics assembly field.
Six place heads, 22,500 CPH (IPC9850: 17,000 CPH)
Fly vision alignment
Mix of electrical or pneumatic feeders
IC from QFP-P0.5< 18mm to QFP-P0.3 <45mm
Specifications
Modell
MT300
Number of place Head
6
Highest component
15mm
PCB size
50x50x0.5mm ~ 330x350x2mm
LED panel size
600x250x4mm
Feeder capacity
80 (8mm tape)
Feeder type
Electrical and mechanical
8~44mm tape feeder, stick, tray
Optimized speed
0.16 sec/chip
Performance CPH (Opt./IPC9850)
22,500 CPH/17,000 CPH
On-the-fly recognition system
Yes
SMD component size
Fly vision: from 0201; QFP-P0.5 < 18mm
Fixed camera: QFP-P0.3 < 45mm (option)
Accuracy
Chip: ±0.05mm, IC: ±0.03mm
Power supply
3-Phase AC220V/380V/440V±10%, 50/60Hz
Power consumption
3KVA
Air supply
0.5~1.0 MPa
Air consumption
5.0~10 kgf/cm2, Max. 320N/min Dry & Clean Air
Outline dimension (W x D x H)
1252mm x 1608mm x 1972mm
Weight
1,300 Kg
High Performance EM Series Pick and Place Machines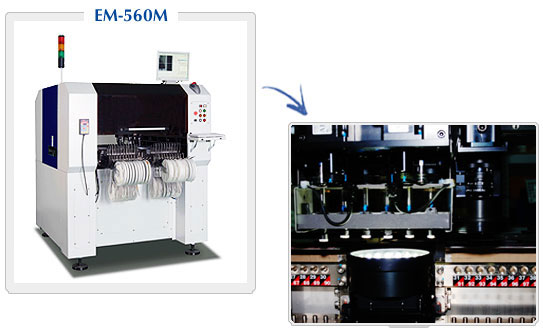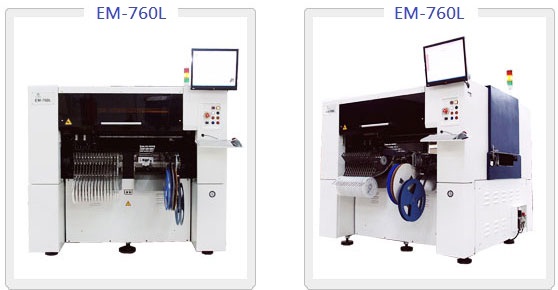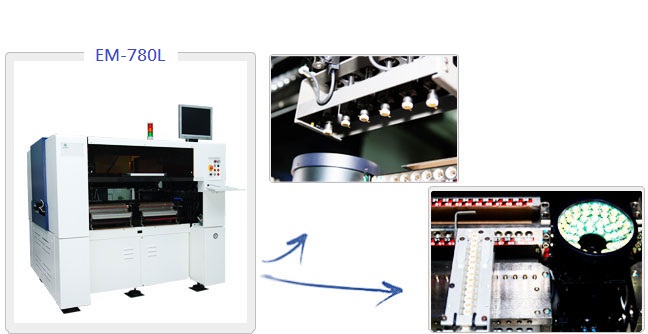 EM series SMT pick/place machines are targeted towards low-medium volume manufacturers supporting different vision systems, more than 12 types of feeding systems, 3 types of pick/place head modules. With component handling capability from small chips such as 0201 up to large fine pitch IC or odd shape components. EM Series systems are designed to be ultra Rigid and durable with FEM Simulations performed during the design phase. The unique Pattern Matching algorithm enables programming of odd-shaped components such as RF Shields etc., where vision file is not available in the standard component database.
EM Series equipments have 6 to 8 in-line heads enabling simultaneous pick-ups for higher throughputs of the system. Each head has it's own Z-motor enabling accurate placement height control of each component being placed on the PCB. The 6 or 8 in-line heads pass over the high speed camera for fast recognition of all components in a single pass.