SX1000 Machines
Full Automatic
From Prototype to Production
Your low cost solution



SX1010 Automatic Pick and Place Machine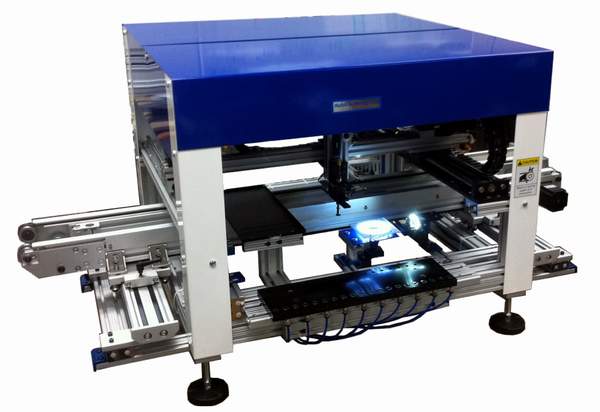 SX1010 Automatic Pick and Place Machine with PCB Conveyor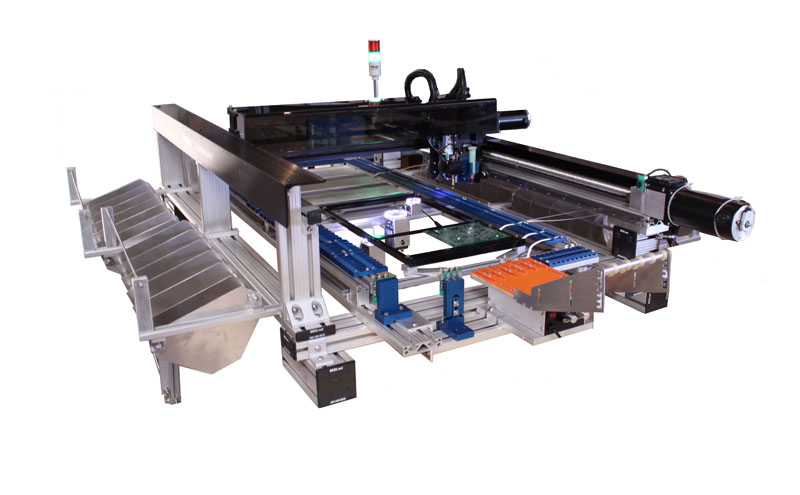 SX1020 (PCB area as big as 1450x400mm)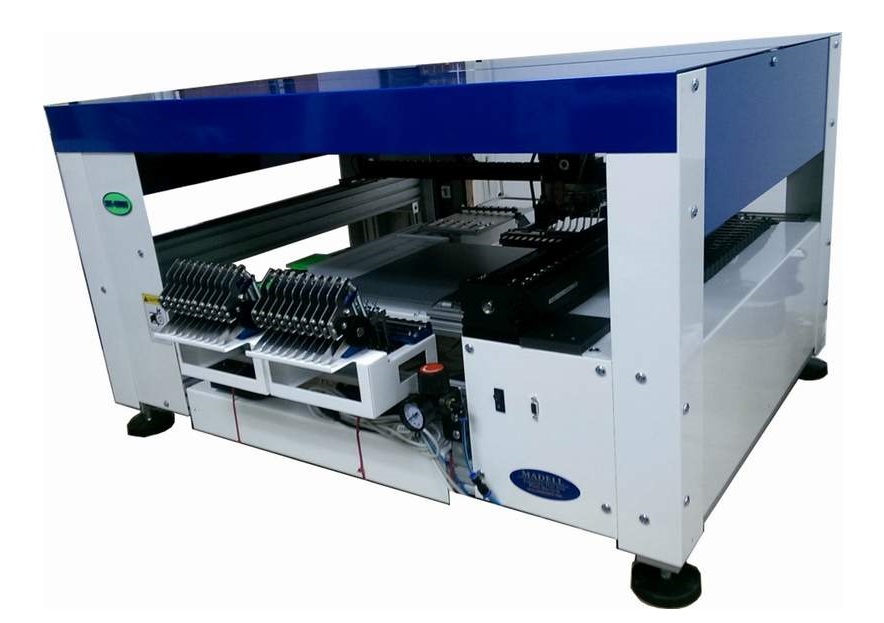 Upgraded SX1010 (made for NASA)



SX1000 Series Office Automatic Pick and Place Machines with Computer Vision Centering


The SX series mini automatic pick and place machines are specially designed for low budget circuit boards assembling. It is a great tool for prototypes, education and research, as well as small batch of production.

Quick tape mounting with our innovated tape forwarding system (patent pending)
Full computer vision for small parts and fine pitch IC's
Fast and easy to use
Very low cost feeders




Features:


Place speed 2000 pph with SX-2 feeders when computer vision is enabled; 2500 with fly vision; 3000 with PX feeders
Placement of 0201 and bigger parts
Computer vision automatic centering system for IC's (SOP, QFP, BGA) and better placement of small parts
Smart Vision: no need of reference or template pictures for most SMT parts; IC is centered as a whole part and also based on pins. Accurate and easy to use
180W brushless servo motors and 4000 line encoders for X and Y axes
X, Y axis resolution 0.00025", 0.045° rotational resolution
Max. feeder capacity: 60 SX-2 8mm feeders for SX1010 and SX2010(feeders mounted at front, rear and middle); 150 SX-2 8mm feeders for SX1020; Vibration feeders and trays take tape feeder space
Free feeders: twenty SX-2 8mm paper or plastic tape feeders included for SX1010 and SX2010, forty included for SX1020
Low cost additional feeders
Automatic PCB board position correction with fiducial recognition included
CAD file convert function
Low machine profile for more stable and faster operation
12 month full factory warranty - parts & labor
Easy to use graphic software for quick programming. Programming can be done with teaching video camera, on screen Gerber file graphics or CAD file
110V AC 60Hz, or 220 V AC, 50Hz, 250 watts electrical
60 psi shop air required
MADE IN USA
Machine customization available

Basic machine includes control box, software, one down looking and one up looking camera.

Options:

Windows XP or Windows 7 (32 bit) computer
Additional up looking cameras (only fixed lens can be used on the video camera for computer vision. Different cameras should be used for small and big parts for best results. Also working speed can be improved if more cameras are placed at different locations close to feeders);
Upgraded up looking cameras
Automatic nozzle changer
400W brushless motor with 10000 line encoders
First and second paste/glue dispensers
Five channel vibratory feeder for tube parts
Through hole insert tool
PX feeders can be installed in addition to SX feeders
PCB conveyor for easy loading and unloading of PCB and inline operation


Advantages of SX-2 Feeders:

Low cost
Fast loading and unloading
More accurate than mechanical feeders
Fit any tape pitches
Automatic tape peeling


The SX feeders are slower than PX feeders. Each feeder needs a snap picture for the computer vision to find the parts on the tape.










SX-2 automatic feeders