Madell Pick and Place Machines
We make PCBA affordable, simple and fun
Technical Information
Feeders

Tape feeder: for parts on reel tapes. Specified by the tape width, like 8mm, 12mm, 16mm, 24mm etc.
We supply the following tape feeders:

1. PX feeder. faster and higher cost than SX series feeders, easy to set up and use.
2. SX feeder(obsolete). We invented the very low cost SX feeder in 2009. A puncher is installed on the machine head. The puncher comes down to press on the tape and pulls the tape forward. Computer vision is used to find the part on the tape before it is picked up. Weights are used to peel the tape. The weights have to be moved up manually from time to time. We do not offer SX feeders anymore on new production machines.
3. SX-2 feeder. X-2 feeder is the second generation of our low cost SX feeder. With the SX-2 feeder, the tape is advanced at the same time that the part is picked up. Computer vision is used to find the part on the tape as needed. The tape is peeled automatically. No weights are necessary anymore. SX-2 feeders are faster and work better for small parts than SX feeders.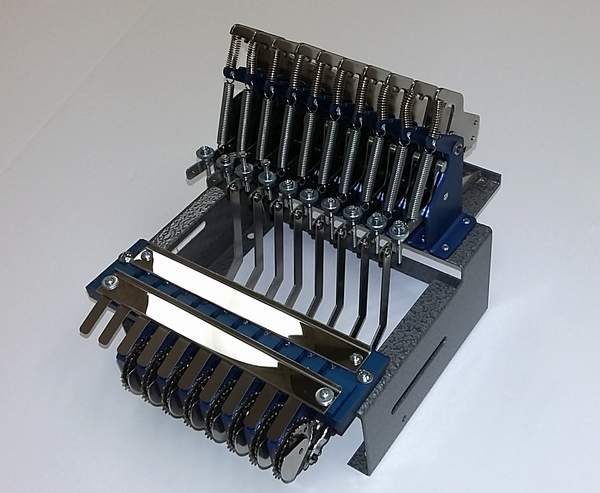 SX-2 and SX-3 feeders



4. SX-3 feeder. Works similar as the PX feeder but lower cost. Tape advances with fixed steps, either 4mm or 2mm. Faster and easy to use than the SX-2 feeder.


5. Programmable intelligent feeder: we also offer 3rd party programmable intelligent feeders


Vibration feeder: for parts packed in tubes. It is also called tube feeder.

Tray feeder: for parts packed in trays. No special feeder is necessary, just a fixture to hold the tray.


Up looking video camera

Up looking video cameras are used to align the picked part before it is placed on the PCB. They are the eyes of the pick and place machines. The view field of a video camera is fixed, and is suitable for a limited range of part sizes. If a video camera's view field is good for small parts, like 0402 , 0603, it will not be good for big parts. It probably can see only a small portion of a big IC. Additional up looking video cameras have to be used to cover different sized parts.

Smart Vision: our pick place machine software offers the self developed, easy to use, unique and very powerful Smart Vision centering function. It greatly simplifies and reduces pick place set up time. No template models or mask pictures are required for Smart vision. It is in addition to mask picture vision that also comes with our pick placce machine software. Our software also offers license based model vision algorithm that is suited for irregular shaped parts


Support:
Our new pick and place machines carry a one year standard warranty. We help our customers over the phone, email or video conference. We also offer extended software upgrade and technical support.